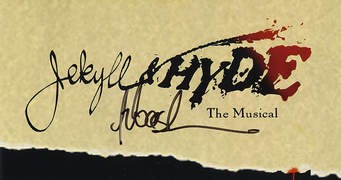 Jekyll & Hyde
September 8 - October 1, 2017
Based on Robert Louis Stevenson's classic thriller, Jekyll & Hyde is the gripping tale of a brilliant mind gone horrifically awry, set to a powerful pop-rock score by Frank Wildhorn with book and lyrics by Leslie Bricusse. In an attempt to cure his ailing father's mental illness by separating "good" from "evil" in the human personality, talented physician Dr. Jekyll inadvertently creates an alternate personality of pure evil, dubbed Mr. Hyde, who wreaks murderous havoc on the city of London. Includes such popular songs as: "This is The Moment", and "Someone Like You".
Recommended for theater goers aged 11 and up
September 8 through October 1, 2017

Fridays at 8:00pm (Sep 8, Sep 15, Sep 22, Sep 29)
Saturdays at 8:00pm (Sep 9, Sep 16, Sep 23, Sep 30)
Sundays at 2:00pm (Sep 10, Sep 17, Sep 24, Oct 1)

Directed & Choreographed by Jan Isaacson
Musical Direction by Jonathan Rothman
Tickets (Buy Now)

$18 General
$16 Students/Seniors (55 & over)
$14 each for groups of 10 or more
Note: each ticket is subject to a $2 per ticket facility fee
---

Disney's Aladdin, Jr.
September 16 - October 8, 2017
Based on the iconic animated film, with an Academy Award-winning score by Alan Menken, Howard Ashman and Tim Rice, Disney's Aladdin Jr. is sure to send audiences soaring on a flying carpet ride filled with romance and adventure.
When the street urchin, Aladdin, vies for the attention of the beautiful princess, Jasmine, he uses a genie's magic power to become a prince in order to marry her. Iago, Jafar, the Genie and more are here in Disney's Aladdin JR., a musical adventure filled with magic, mayhem and the power of love.
Performances:
Saturday, September 16, 2017-2pm
Saturday, September 23, 2017-2pm
Saturday, September 30, 2017-2pm
Friday, October 6, 2017-7pm
Saturday, October 7, 2017-2pm
Sunday, Octoboer 8, 2017-2pm
Recommended for all ages
September 16 through October 8, 2017

Saturdays at 2:00pm (Sep 16, Sep 23, Sep 30, Oct 7)
Friday, October 6 at 7:00pm
Sunday, October 8 at 2:00pm

Directed & Choreographed by Jan Isaacson
Musical Direction by Tylen Einweck
Tickets (Buy Now)

$8 All ages
Note: each ticket is subject to a $2 per ticket facility fee
---